Back in 1836 the state of Georgia wanted to build a railroad to the Midwestern part of the United States.  Driving a stake into the ground in 1837 was the beginning of Atlanta, Georgia.  Homes and stores came onto the scene in 1839 which quickly became a settlement.  The railroad lines arrived in four different directions between 1845 and 1854.  This caused Atlanta to quickly become a rail hub for the greater Southern United States.  This caused the city to become a huge distribution hub when quickly caused it to become a target by the Union during the Civil War.  In 1864 Union troops invaded setting fire to everything but hospitals and churches.  Once the war was over, manufacturing was on the rise as well as the population.  One of the largest companies in the world was born in Atlanta and that was Coca-Cola who set up shop in 1886.
Today Atlanta is a mecca of eclectic restaurants, gastropubs and craft breweries.  I have three gastropubs that I looked into and want to share with you.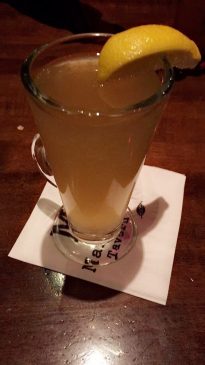 Marlow's Tavern is located in Midtown, Atlanta.  They feature over twenty-five craft and local beers.  The alcohol by volume starts at four point two up to eight point seven!  There is sure to be a beer in there for even the pickiest of beer drinkers.  They even have three beers that are gluten free.  For those of you who do not care for craft beers they do offer the popular bottle and canned beer.
They don't just offer beer, they offer crafted cocktails with free squeezed juices.  Their wines are hand selected from around the world and are available by bottle and glass.
While enjoying a craft beer or glass of wine why not start with a snack.  They serve crisp cheddar straws with a horseradish aioli.  The Ahi Tuna Poke served Hawaiian style with avocado, teriyaki, scallions and wontons.  Their Jumbo Lump Crab Cake is a favorite with blue crab, Old Bay, celery root slaw, carrot, radicchio and their famous horseradish aioli.
Order something to share like their Smoked Trout Dip with Ducktrap River Smoked Trout, olive oil, horseradish, fresh herbs and house-made Wheat Thins.  The Firecracker Shrimp and the Asparagus Fries sound very tempting.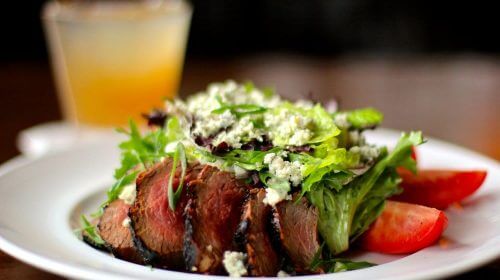 They offer sandwiches like the Chicken Salad Wrap, Infamous Fish Tacos or one of my favorites the Prime Rib French Dip.  Their burgers have a solid following among the Atlanta crowd.  Their Tavern Burger is classic and simple served with shredded romaine lettuce, thinly sliced red onion, roma tomato on a toasted sesame brioche roll.  Add their bacon jam for free.  The Black and Blue Burger includes gorgonzola, apple-wood smoked bacon on their famous rolls.
They do have some Tavern Favorites like Seared Jumbo Scallops that are simply seasoned and perfectly seared with roast jalapeno corn grits, Spanish chorizo, poblano roma tomato and roasted tomato fondue.  Or try their Shrimp and Grits with white cheddar grit cake, sautéed spinach, roma tomato, shallot and roast tomato berurre blanc.
No wonder they have a four and one half star rating on the internet with over seven hundred reviews.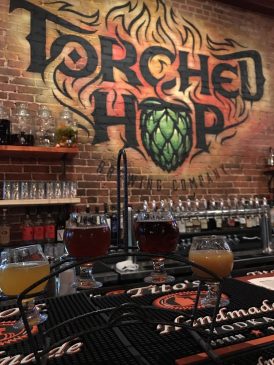 Torched Hop Brewing Company was founded in 2016.  They have an indoor bocce ball game that is a favorite among the locals.  Founded by two Atlanta natives Chris and Stephen Bivins who decided they did not want to sit behind a desk forty hours a week.
Offering twenty rotating taps, they work to update their website regularly, so you can see what types of beer they have on tap prior to arriving.  Some of their craft beers are the Spongehop which is a pineapple IPA or their Bury the Sunlight with a five point two alcohol by volume Scottish Ale.
Their Small Plates include Pimento Mac and Cheese with bacon, ritz and aged white cheddar.  For those of you who loves wings with choices of buffalo garlic parmesan, spicy koren or superfreshlam.  Add the Wu-Fries that are served with buffalo, ranch, cheddar, bacon waffle fries.
Sandwiches are amazing starting with their Classic Double with ketchup, smoked mayonnaise, b&b pickles and American cheese.  Their Smoked Tofu BLT has house smoked tofu, heirloom tomato, arugula, pimento cheese and basil tofu mayo.  Try the T.H.C Sandwich with buffalo fried chicken, slaw, b&b pickles, tomato's and mayonnaise.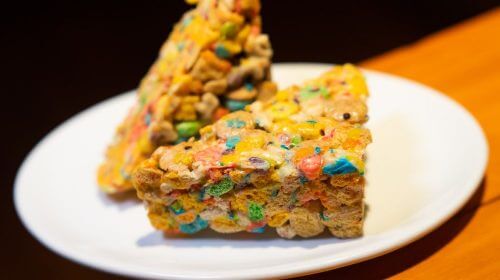 Want to share a plate?  Try their Not as Small Plates with only two choices.  Shrimp and Grits with smoked tomato, roasted fennel, garlic, bacon, lardon and white cheddar grits.  Or their Fish and Chips with fresh Atlantic cod, hand cut bay fries and tartar sauce.
Torched Hop Brewing Company is famous for their pizza's.  Their Charcuterie with Bresaola, fennel salami, prosciutto and bacon is sure to make you need an extra craft beer.  The Carnitas with adobo roasted pork, feta, sweet onion, avocado and salsa verde sounds like a taste bud treat.
Don't want to cook breakfast on Sunday, head over to Torched Hop and Brewing for Brunch.  Their Full Atlanta Breakfast included buffalo fried chicken breast, two eggs, bacon, tomatoes, toast, cheese grits or potatoes.   The H.J.S. Donut Burger features Stone Mountain Cattle Company Ground beef, bacon, caramelized onion, American cheese and a fried egg.  The donut is locally provided Krispy Kreme Donuts.
You can follow them on Facebook, Instagram and Twitter.  Add to their seven hundred plus reviews giving them a four point five rating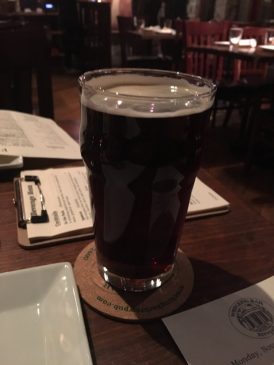 The Wrecking Bar Brew Pub is located in the historical Victor H. Kriegshaber House.  Kriegshaber instrumental in the economic and cultural development of Atlanta in the early 1900's.  From 1929-1940 the building was a Centerary Methodist Protestant Church and from 1940-1964 it became the Jack Rand Dance Studio.  From 1970-2005 the house was known as the Wrecking Bar Architectural Antiques which was a place to buy items for old houses.  You could find anything from chandeliers to door knobs.
In 2010, Bob and Kristine renovated the building to create the Wrecking Bar Brewpub and The Marianna events center.  They put the brewpub in the basement and created an event space on the main floor.
Today the owners have a mad passionate about beer and food.  Bob Sandage started brewing beer in graduate school where his friends enjoyed not only his homemade beer and pizza.  They swore he would someday open a brewery and restaurant of his own.  Kristine has a graduate degree from Iowa State in structural engineering.  She worked at Bob's engineering company and that is how they were able to envision the renovations.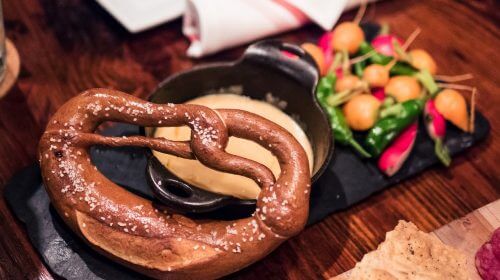 Their Chef Terry Koval worked in some of the finest restaurants in Atlanta.  The Sandage's offered him a position at The Wrecking Bar and Brew Pub in 2010.    The Brewmaster is Neal Engleman started homebrewing in 2008 as a hobby.  His hobby became an obsession and he joined The Wrecking Bar in the spring of 2011.
The Wrecking Bar and Brew Pub has son several local competitions for their craft beers.  No wonder they have over nine hundred review online with four and one half stars.