Dallas was first explored by John Neely Bryan in 1839.  He wanted to establish a trading post that would serve both Native Americans and settlers.  He surveyed the area then returned to home to Arkansas to put together his business.
Unfortunately, while he was home, there was a treaty signed which removed all of the Native Americans from Northern Texas.  Upon his return, he saw that half of his perspective customers were no longer there so he decided to create a permanent settlement which was created in 1841.
Today Dallas, Texas has a population of over one million three hundred thousand residents.  The median income in 2016 was $63,812 per household and they say you need $57,984 to live "comfortably" in Dallas.
The major industries in Dallas, Texas are information technology, telecommunications, life sciences, defense and financial to name a few.  There is an estimate that Dallas comprises about forty-three percent of the state's high-tech workers.  This means there is a lot of extra spendable income for people to enjoy great food and when you think of Texas you think of barbecue.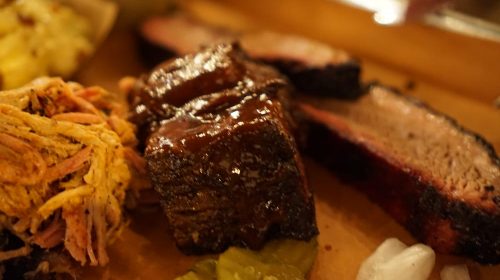 Located in the Deep Ellum part of Dallas, Texas, Pecan Lodge got its humble name from Justin's grandfathers ranch in Abilene.  With strong memories of cooking with their grandparents, owners Justin and Diane started their first barbecue business at Dallas's Farmer's Market in Shed #2.
Both Justin and Diane had corporate jobs that caused them to travel weekly.  They decided to take the plunge and quit their jobs to spend more time as a family and open Pecan Lodge.  It quickly became a favorite of locals and tourists alike and was called one of the Top 4 BBQ joints in the world by Texas Monthly.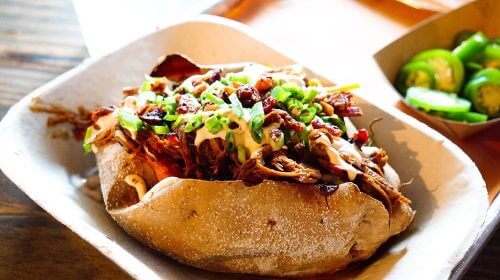 They made a decision to use time honored family recipes instead of using current trends.  They stuff their own sausage, make everything from scratch like their Aunt Polly's banana pudding to their Southern Fried Chicken and keep their barbecue pit burning twenty-four hours a day.
They offer a mouth-watering catering service for any event.  You can rent their exclusive restaurant with patio access or they will cater to your event.  With the offer of a full staff and live music you next event is sure to be a success.
Not surprisingly they have over two thousand eight hundred positive posts on the internet.  This gives them a strong rating of four point five.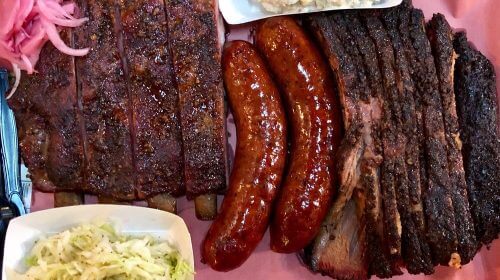 As with most of the barbecue restaurant owners, Todd David turned a life-long hobby of barbecue into a highly successful restaurant.  He took a gamble and after thirty years sold his disaster restoration company in 2010.  There he founded the Cattleack Barbeque, a North Dallas catering company.
Todd fashioned the name of the Cattleack Barbeque after one of the highest quality automobiles, the Cadillac.  Creating fall-off-the-bone smoked meats and a Special Reserve BBQ sauce, their goal is to have you come back again and again for the best darn barbecue ever.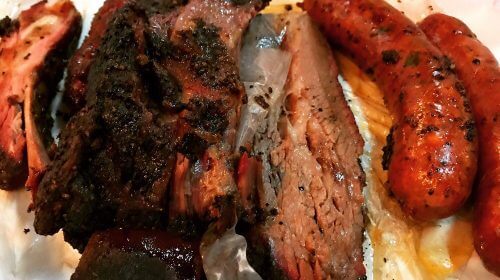 They are open on the first Saturday of every month from 10:30 – 2:00 and Thursday and Friday from 10:30 to 2:00 or until they run out of meat.  Located on the edge of Addison, Texas and Farmers Branch, Texas-North Dallas, you should get there early as lines form fast!
Cattleack Barbeque was listed as one of the "19 Essential Dallas-Fort Worth Barbecue Destinations" by Easter Dallas.  They also featured an article on "How to Eat Your Way Through Dallas in 24 Hours" suggesting you visit them at 10:30am.  They recommend trying The Toddfather which is comprised of pulled pork, spicy hot link (sliced in half) and thickly-sliced brisket served with their Housemade sauce on a freshly-baked bun.
There are almost six hundred raving reviews of Cattleack Barbeque restaurant.  With the limited hours, be prepared to stand in line or get there early.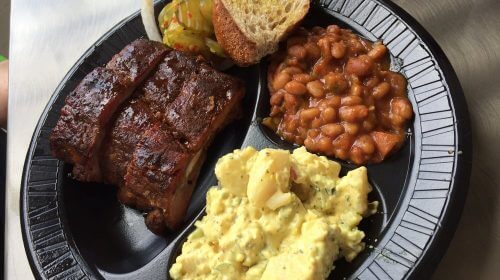 Off the Bone Barbeque on South Lamar Street is a place where you will find amazing comfort food.  Their tag line is "It's as good as it looks" and you will back that once you bite into their off the bone pork ribs, beef sausage, beef brisket or smoked chicken by their award-winning Chef Dwight Harvey.
Named one of "The 20 Best Joints in Dallas" for barbecue, Off the Bone Barbeque strives to serve some of the best gourmet barbecue and sides.  Try the famous Deep Fried Whole Corn on the Cob or their three meat Charro beans.  Their homemade sides include coleslaw baked beans or potato salad.
Have an event that needs to be catered?  Think of Off the Bone Barbeque.  They offer three Pitmaster Packages.  The Two Meat package is fifteen dollars per person and includes two sides.  Their Three Meat Package runs nineteen dollars per person with two sides or their Four Meat Package is only twenty-three per person.
If you look on the internet, you will see they have almost five hundred reviews that rate them over four stars.